Whether you're the admin of your office network or your home network (or both), it's always a good idea to have security and order in place. Untangle is software that you can install as the operating system on a machine. They have lite versions of their apps which are free of charge and quite useful!
Untangle was, in their words, "built to make it easier to keep computer networks safe and speedy, and computer users happy and productive".
This is done with a slew of free and commercial apps which will help you as the network admin ahead of the curve.
First, find some piece of hardware.  You can find hardware requirements on Untangle's wiki page.  I'm using an older Dell r200 that we retired from our hosting environment.  I'm also using this in my home network so that I can monitor and curb my 14yr old son's Internet gaming habit. 🙂
Once you find a box to use, download the latest Untangle image.  You can download the iso and burn to a cd/dvd or the .img to write it to a usb.  We'll go the img/usb route since that's becoming more popular.
First, download the software: http://www.untangle.com/store/get-untangle/ (Pick the .img if you're going to write it to usb)
Next, find a usb stick, plug it into your linux workstation/laptop, find out the device (/dev/sdb in this case) and write the image:
dd

if

=

untangle_1000_x64

.

img

of

=

/

dev

/

sdb

bs

=

1M
Use the usb to boot off your hardware and install Untangle!
After installation, the computer will reboot. You'll need to figure out if you want to use it as a bridge or in router mode as the setup will start automatically.
If you have a router or firewall in your network already and don't want to replace them with the Untangle server, choose bridge mode. If you are replacing the router/firewall in your network with the Untangle server, then choose to set it up as a router.
Next, choose the lite package to start out with. This will introduce you to the basic versions (free) of Untangle's apps. Below is a screen shot of my setup: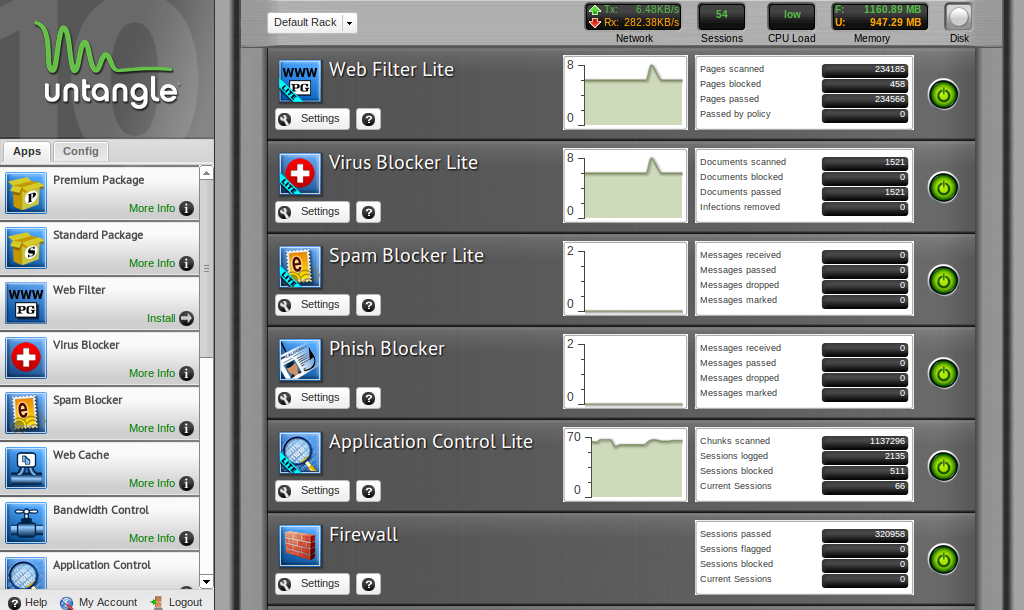 Ensure you can connect from computers within your network and mess around with some of the settings.  If you want to block porn from being seen within your network, just go into the "Web Filter Lite" settings.  If you want to block 'Gaming' from your network (like I need to do for my son sometimes), you'll need to purchase the regular 'Web Filter' app.
Overall, the Lite packages are more than enough for most home networks – even for some office networks!  If you try it, comment below and let us know what you think!
Related posts from Linux Brigade!